Why A WordPress Website?
A WordPress website uses a content management system (CMS), which means the entire site is managed from the "dashboard." Pages, posts, media, plugins, themes all can be administrated from one location.
The WordPress platform launched as a hosted service in 2001. It was primarily a blogging platform and was used by thousands of businesses, journalists, aspiring writers, and simple hobbyists.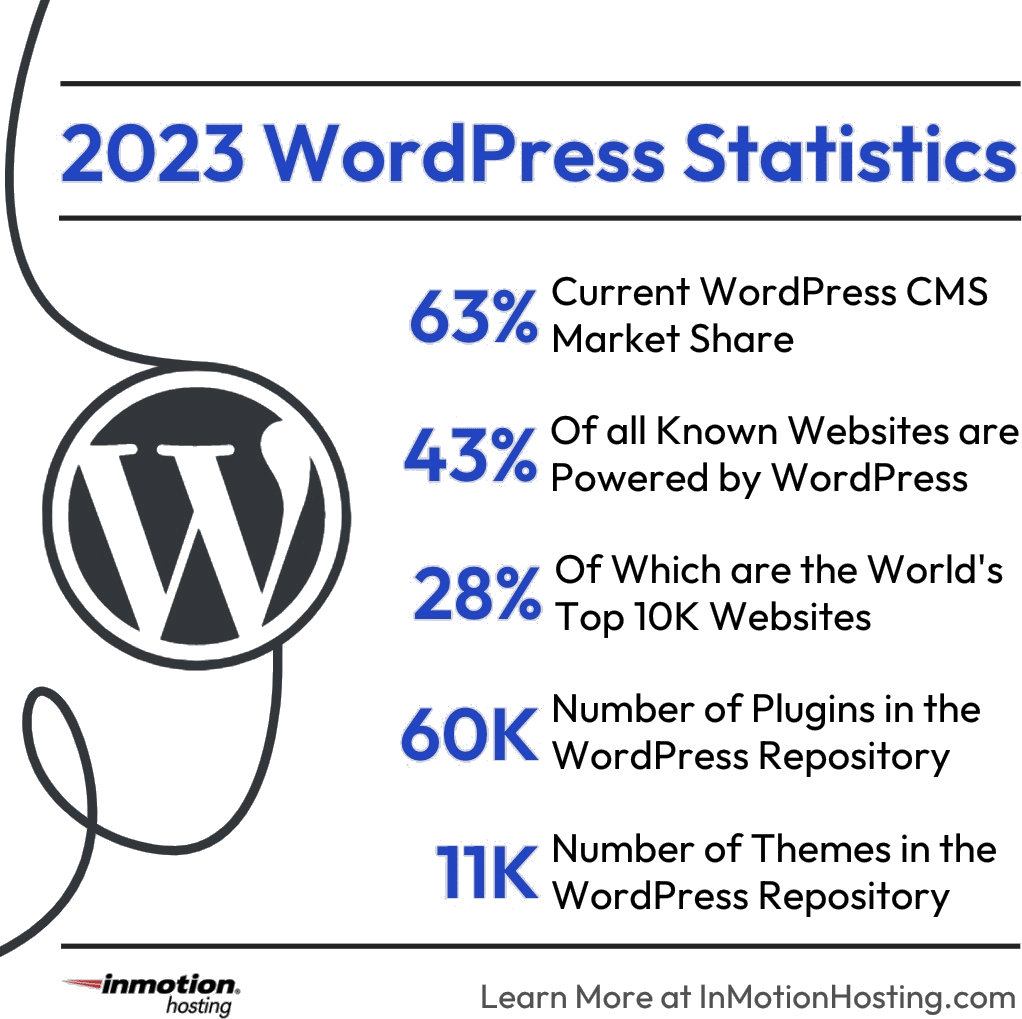 In 2005, the ability to "skin" the website with different themes was introduced, and just like that, WordPress use exploded. It was incredibly easy to develop a website that didn't look like everyone else's.
The platform continued to grow adding an easy-to-install theme program and customizers, page, post and project content types, a Word-like text editor, media libraries and installable plugins.
According to W3Techs, WordPress websites power over 43% of all the websites on the internet (see the State of the Word 2021 video on this page). That's a staggering number of nearly 16,000,000 websites using the self-hosted version of WordPress. Some other stats from W3Techs.com :
Dozens

of top blogs are WordPress websites
Thousands

of the top 10,000 websites use WordPress
Compared to other CMS solutions, WordPress is nearly THREE TIMES

more popular than than the

next SIX website CRM systems COMBINED!
So match those phenomenal numbers nearly 60,000 feature-enhancing plugins built specifically for WordPress websites, scalable hosting environments optimized for the platform, security and updating processes, and a user-friendly interface, and you have the most versatile website platform around.
Important Topic Info
WordPress : the internet's most used content management system initially created as a blogging system.
Important WordPress Statistics – 2022
WordPress is used by 43.2% of all websites on the internet
WordPress usage has increased an average of 12% since 2011
WordPress is used by 65.2% of all websites using a content management system
WordPress powers 36.28% of the top 1 million websites
WordPress has been the fastest growing content management system for 12 years in a row
There are almost 60,000 free plugins in the official WordPress plugin directory
There are over 31,000 WordPress themes available both free and paid
Is A WordPress Website Safe?
Let's just get this out of the way right away… similar to Windows computers, WordPress websites are a target for hackers due to their popularity.
But, with the right planning, security guidelines, backups and update procedures your WordPress site can be safe and efficient for many years.
BeBizzy Consulting's hosting packages include several options including:
Daily, weekly or monthly backups of the entire site into an easily recoverable package in the event of a catastrophic event like a hack or hardware failure.
Weekly updates of the WordPress core files,

themes and plugins to ensure your WordPress

website has the most updated software available.
SSL's are available to both protect visitor data and also increase your search engine rankings.
Advanced security processes are put in place when your

WordPress website is ready to launch including security plugins, migrating the admin login page, username/password policies, permalink formats and more.
All website are vulnerable to hackers and hardware failures. But the benefits of a WordPress website include ease of backing up and restoration, seamless migration to a new host, and security in finding a qualified professional able to work on the website. If you put the planning in at the beginning of the project your WordPress website can be as safe, or even safer, than a custom-built website.
New WordPress Website
A new website is needed for many things.
New business or organization
New logos, brand standards, colors,
Significant change in products and/or services
Current website was built on outdated technology
Need to engage mobile users
As you can see, a new website can bring your company or organization into a different space in the eyes of your customers and visitors. All BeBizzy websites are naturally responsive, meaning they are viewable on tablets and phones. They are also built on the most recent versions of PHP, WordPress and other software allowed by the theme and plugins selected to develope the site. This provides some "future-proofing" to some degree as far as function and security on the website.
A brand new website does have a few challenges compared to a website redesign.
A new website can take significantly longer to launch due to new images, content, designs and
Because of the items listed above and starting from scratch, a new website can also cost a bit more than redesigning a current website
If there's some previous experience managing the older site, there's going to be a learning curve on a new website. But this is usually not an issue as WordPress continously gets more user friendly with each release.
Ready to get started? Complete the form below and let BeBizzy Consulting get your business on the internet!
Website Redesign
Some times a website just needs a redesign or re-launch due to :
Old or broken technology
Responsive design
Security risks
Loss of site manager or dissolving of vendor relationship
Increased needs for SEO or other marketing
But, maybe the content is good and can basically be re-used.
So intead of creating a completely new website, sometime you can just redesign and republish the site.
This can be a big time and money saver since the information and some of the functionality can be used on the new site. Logos, photos, text, videos, Google Analyics, retargeting, social media tracking… all just gets copied from site A to site B.
But with the good, some times there are limitations of re-using old website content and code.
If older plugins or themes are needed it can limit the upgrade of PHP and WordPress to current levels. This can cause some function and security issues.
Older photos or videos can be a lower resolution or not match any changes in the color schemes of the new site.
There also could possibly be old malware on the site which could have been lying dormant. This will have to be removed.
Need to discuss whether you could just update your current site or will you need an entire new website? Contact BeBizzy Consulting today!
Who Will Manage My WordPress Website?
Let's turn that question around… who do you WANT to manage your WordPress website?
WordPress is the easiest to use content management system in use today. Gone are the days of pulling files down using FTP, updating HTML, PHP or ASP in Notepad or Dreamweaver, testing on a local browser, the re-uploading using another FTP connection. The WordPress user interface is well developed, mostly because of the MILLIONS of users who provide feedback, or in some cases, programming for the core file function and design.
In the past BeBizzy Consulting has launched and handed off WordPress websites to very technical users, but we've also trained and turned over sites to VERY non-technical clients. In fact, most of the website developed and hosted by BeBizzy Consulting are in the hands of our clients.
Some of the features maintained by BeBizzy Consulting clients include:
Locked membership content
Shopping carts
Event ticket sales
Calendars
Large image galleries
Voting and polls
Blogs
Projects that include maps, photos and spec information
And many more
With a little bit of training and a dedicated staff member your WordPress website can be anything you can dream up. Or if you would like, BeBizzy Consulting can manage it for you!
Let's Get Started

Complete the form below and BeBizzy Consulting to book your consultation. For more urgent requests, please text or call 701-214-6271.