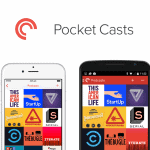 Those who follow this blog know I love to listen to podcasts while I work. It's great subliminal noise while I am punching through Excel sheets or building another WordPress site.
And to listen to and manage all of these podcasts I've tried several apps on computers, tablets and phone. Most recently I was using Doggcatcher on my Samsung Note 10.1 (2014 edition). But yesterday I was introduced to a wonderful new option, Pocket Casts.
Pocket Casts is available for Android and iOS devices (iPhone and iPad) and is availble for a small charge ($3.99 from the Google Play Store, and $4.99 from iTunes), but the small cost is well worth it. Here's some of the features:
Syncing between devices. This will be a lifesaver! The account makes it easy to subscribe to podcasts on one device and have it sync with an unlimited number of other devices regardless of operating system. I even have it sync'd with my PC by running an android emulator on my computer.
Speed control. Only have 45 minutes to listen to a 60-minute podcast? Speed up the playback and get all the info just a bit faster (I top out on 1.3x speed. Anything else is just too distractingly fast).
Automatic sync – Set up any or all podcasts in your library to automatically update or download to a particular device. This is handy in case your tablet has more memory than your phone, or you have a primary device. There's also settings on how often the app should check for new releases of podcast.
Filters. Want to see which video podcasts are available? Want a list of unplayed podcasts by date?
Another feature I noticed right away was better access to podcasts that I previously I couldn't find in iTunes or Doggcatcher.
So if you like to listen to podcasts while you work, drive or workout, take a look at Pocket Casts on your android or iOS device. Let me know what you think in the comments below or @BeBizzy on Twitter!
Below is a quick video of Pocket Casts. Enjoy!