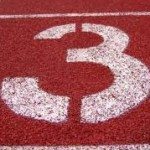 Every year one of my social media mentors (even though he might not know it) publishes a post with his three words.
The exercise forces Chris Brogan to look at "goals and intentions" for the coming year and filter those goals down to three simple words that may be used as a destination for you in the coming year.
Previous 3 Words for Chris were Reinvest-Package-Flow, Temple-Untangle-Practice, and Ecosystems-Owners-Kings. These seem vague, and that's intended, but once you pull those words back and find out what build up to that single word, or series of words, you really see the value of the exercise.  After watching this exercise for years, I'm finally ready to take part and announce my #threewords.
My Three Words
Widen – I've done a pretty good job of networking in the last few years, both online and in circles offline. In the past I really wasn't in a position to leverage those contacts into anything other than personal friendships or information sharing. But now with BeBizzy Consulting re-launching it's time to reach out to those resources and widen the scope of that network. I look forward to reconnecting with past colleagues and to expand on current working relationships to get the word out about BeBizzy Consulting.
Educate – There are huge opportunities to learn in the skills I've already developed. I plan on diving head-first into SEO concepts, WordPress security and optimization, Google Analytics and more to make myself more valuable to current and future clients, and also to potential partners on certain projects.
Center – The last few years have been a whirlwind of starting new jobs, sending our only child off to college and adjusting to empty-nest syndrome, and a wild rise in wedding and other DJ events with BeLoud Entertainment. Starting out on my own won't be any less wild, and the kid and DJ business won't be going away, but this year will be about concentrating on building BeBizzy Consulting into a successful small business that will continue to grow for years to come.
So what do you think? Are you ready to put your three words down on paper, or the internet? Or have you already done so? Thanks for a great exercise, Chris. Now to see what happens!
Send me your comments @BeBizzy on Twitter or post them below!