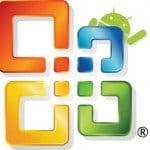 Really the only downside for using an Android tablet for your primary business device was the fact Office was not available.  Sure, you could force the Office Mobile app to work or use an alternative application to open and edit Word, Excel or PowerPoint documents, but each of those solutions had some drawbacks.
Yesterday, January 29, 2015, Microsoft officially released each app separately for Android tablets after a three-month test phase (which I missed for signup, bummer). The apps will be free for one month, then will require an subscription to Office 365.
As I mentioned, each of the office apps are available separately from the Play Store. So you will have to download Word, Excel and PowerPoint directly.
One thing that surprised me was integration not only into OneDrive by default (included in Office 365), but also into DropBox so sharing and collaborating on files becomes extremely easy.
According to C|Net, these apps word on 7″ or larger tablets running at least Android KitKat 4.4. Microsoft is not "officially" support Lollipop yet but the apps should run on the OS.
Office Mobile has been available for Android Phones and iOS devices for several months and will continue to be supported.
So rejoice Android Tablet users! Leave that laptop at the office and start using your tablet to be more productive anywhere.