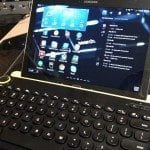 Yesterday I was on the fence on whether I should buy a Chromebook or not. For those of you not familiar with Chromebooks, they are cheap, laptop-like devices running Google's Chrome OS. They have very little onboard memory, HD screens, similar ports to commercial laptops, and depend greatly on internet cloud services for hosting files and work. Some even come with LTE connectivity.
I have a laptop and also a Samsung Galaxy Note 10.1 2014 Edition, but the laptop, while powerful and work-friendly, is large and battery life is "ok." The Note 10.1 is an awesome tool for email, following social media and viewing the web, digital books, entertainment and file viewing.
The Chromebook was to fill the void between the two because of these features:
Smaller than the laptop but larger than the tablet.
Full keyboard to make typing easier.
Wonderful battery life.
Great connectivity to cloud-based file storage like Google Drive, Dropbox and others.
So as I'm researching the Chromebooks from Asus, HP, Toshiba and Samsung, I stumbled upon another solution. What if I found a keyboard that was easy to use, full-featured, and could work on multiple devices when I inevitably upgrade from the Note 10.1?
About an hour later after a trip to Best Buy I had my solution in-hand, the Logitech k480 Bluetooth Keyboard.
The k480 has a ton of features that make this perfect.
Full featured keyboard including a selector to choose between a PC/Android layout and iOS.
Can connect to up to three difference devices using the numbered dial.
Rubberized cradle to securely holding your tablet or phone (or both in portrait mode!)
Now, I can use my tablet as my laptop/Chromebook clone. Android now has a full Microsoft Office version to create and edit documents and presentations. The 10″ screen is more than enough to work on WordPress in my browser, making blogging easy. I was worried about the charging port being on the bottom, but with a screen rotator app I can flip it 180 degrees and plug in on the "top" of the tablet. The channel even allows headphones to be plugged in with the device upside down.
Want to hear the best part? This keyboard is only around $50! Order one up on Amazon right now and turn that Android, Windows or iOS tablet into an even more powerful work device.
What are your thoughts on Chromebooks or the Logitech k480 keyboard? Let me know in the comments below, or just give a shout out on Twitter @BeBizzy!
Disclosure: As member of a pretty cool team of influencers, I receive devices with line of service from Verizon. No additional compensation was provided nor did I promise a positive review. All opinions are my own.