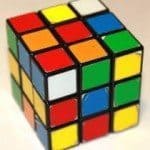 There are only a few things that can make you look different to consumers when you're a business. Your name, of course. Your location can help. And your logo, like it or not.
Some very high-profile companies have recently changed their logos to a mixed bag of reviews. Remember a few years ago when The Gap changed their logo? They got roasted. And just in the last week both Google and Verizon have announced big logo changes (I like both of them, by the way).
Coming from an advertising agency I've seen logo choice be a painful process. Designers can create DOZENS of logo revisions in a rainbow of colors and all with an explanation of why this combination of graphic, text and colors are a good fit for the organization. I've even seen one group narrow it down to just some block letters after kicking around dozens of concepts for weeks.
So, how does an individual or organization select a logo that captures what a company is trying to say? Do they go with just a text-based logo? Do they need a graphic? What color? What "feel" should it convey?
Here are a few suggestions on how to get the logo you need, even if it's maybe not the one you want.
Hire a designer : Don't do this yourself! I've seen several, including one yesterday, that were obviously done on a budget and by the business owner, not a professional designer. Designers have access to graphics and fonts that you probably don't have and know how to use them. If you're conscious about price there are many qualified designers on a service like Fiverr.com which can provide you with great options at a lower price point but remember that several people may have similar, or even the same, logos.
Provide some guidelines, then walk away : Here's where you can have your say, to a point. You know what image is to be portrayed by your logo. If you're an ad agency something modern and maybe even "loud" may be appropriate. Raising money for a cancer charity, something softer might be in order. Tell the professional your thoughts and then let the designer design and you'll most likely be impressed.
Narrow down the choices : Put yourself into the role of a customer and look at the logos. Does it mean the same to you as if you're a person trying to convince someone to use your services? Get some trustworthy people involved either at the meeting with the designer or shortly thereafter. Their guidance will help you feel what the logos are portraying to a consumer instead of guessing or thinking about what the logo means to you.
Get multiple versions : You might think the logo is only going to end up on a website, or maybe a sign. What about monochrome'd pen logos? What about clothing? What about sending the logo to someone else for inclusion on their signs, websites or flyers? Ask up front for multiple versions and also think about that when selecting a final version.
Embrace the new logo : Eventually you're going to have to make a decision on the logo. Social media has allowed anyone with an opinion to share it with hundreds, even thousands of people. So be prepared for not everyone to like your new look. Once you find something that's right for your organization, embrace the new logo and share make sure everyone knows.
A logo can be forever… or not. The best part is logos are not permanent. Sure, it can be expensive to change and revising it often can lead to some consumer confusion, but it is just an image. So many people get wrapped up in this process and forget that the real business value lies in making sure you value customer service and getting a quality job done. Communicate with the designers, work with them through the process, and view the logo as a customer and you should be proud to display your logo everywhere!
Need a new logo for your business? I am NOT a designer, but I work with several and can also provide some input on how the logo will work in many formats, including your website. Give me a call at 701.214.6271 and we can discuss how to best display your company or organization to your customers.