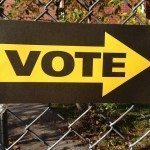 Like it or not, Republican, Democrat or none of the above, we're inside of one year until another major election in the United States, and probably in your local area. Next November local results, state offices and national responsibilities will all be decided by civic-minded adults who wander to local polling locations and cast their ballot for any or all of the candidates that mean something to them.
But with all of the noise on the internet, television and other media formats, how do you get the information you need instead of what the candidates and PAC's WANT you to hear?
Being a fairly open-minded, maybe even skeptical, voter (I've voted both parties in the last few elections), I've tried to assemble a list of apps that make a case for positions across the board. And if I have one message in this post it's this… listen to all sides WITHOUT your bias. No one is completely right, or completely wrong and if you go into the argument already closed off to one side or the other, then why even listen to or read what's being said?
US 270          
US 270 Free (270 is the number of electoral votes needed to win the US Presidential election) is an app to track electoral votes and news as it relates to the upcoming presidential election. Stay up to date on predicted outcomes, create your own maps and theories to share, and see strategies emerge as the 2016 election unfolds.
Poll Up          
Poll Up is connected directly to the Huffington Posts polling system, which should shoot polling results directly to the app. As with all polls, use this with an "eyes wide open" thought process knowing that numbers can be made to tell just about any story.
Ad Hawk          
Great app that listens to political TV ads and then pinpoints who is directly responsible to the ad. This is useful when you just want to know who is paying the money to run that crazy, or inspired advertisement that strikes a chord with you.
All Politics          
All Politics is an app to get political news all in one place. The news is a gathering of aggregated and original news from Politico, Fox, MSNBC and other sources so it should provide many sides to any argument.
Pocket Casts          
Pocket Casts is only one of several podcasting apps that can be used to listen to a wide variety of shows that run across the political spectrum. Nothing get the base fired up like an un-filtered, un-regulated broadcast where a host can say or do anything he/she wishes. Listen at your own risk. You can also use many other apps, such as:
And don't forget, your local newspaper, radio channel or favorite television news probably has an app that can be arranged to display political news as a default. Make sure you are checking that out. There's also the national news organizations listed below. Keep in mind that all of them have political leanings one way or another, but again, it is good to sometimes hear the other side and to have the open mind to possibly be persuaded.
Elections have a way of dominating our thoughts, discussions and media for many months as they get closer. Social media has magnified this by allowing users to voice their political leanings by easily sharing online media or just a passing thought on events like the Presidential debates or the recent Paris terrorist attacks. Create lists on Twitter (I have a list of local Bismarck, North Dakota and National news organizations), follow on Facebook, or even stay connected by watching Periscope or Meerkat videos.
But being uneducated at the polls is not an excuse anymore. You have all of the resources available on the web or your favorite mobile device. Use them to gather or, if so desired, distribute knowledge on topics that are near and dear to your heart. But remember, there are those who stand to gain if they can somehow motivate you to think one way or another. There has never been a time more lending towards knowing all sides of an argument and cutting through the media leanings. Take some time to learn about the issues that matter most to you, and vote accordingly.
Do you have an app that you use all of the time to track or stay informed about an issue? Add them to the comment section below, or send them to me @BeBizzy on Twitter.
Disclosure: As member of a pretty cool team of influencers, I received a mobile phone and with line of service from Verizon. No additional compensation was provided nor did I promise a positive review. All opinions are my own.