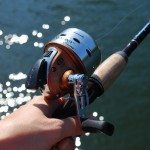 The ice has finally melted off the lakes and rivers of the north, and while a good many of you are waiting for fishing season to open, we're already heading out on the water up here in North Dakota!
Since I'm part of the Verizon #VZWBUZZ Lifestyle team and being addicted to mobile technology it only seemed logical to grab my trusty Motorola Droid Turbo, jump online and find some apps to enhance the fishing experience.  So below are the eight best Android apps I could find to help you catch fish, enjoy the day, and be as safe as possible on the water.
There are so many more, but I hope this list wets your appetite and gets you navigated towards fishing success. And don't forget to share those photos and stories on Twitter, Facebook, Instagram and everywhere else! I'm sure I missed some of your favorites, so leave them in the comments below, or better yet, shout at me @BeBizzy on Twitter!
Stay safe on the water, get licensed up, and take a kid fishing!
Disclosure: As member of a pretty cool team of influencers, I receive devices with line of service from Verizon. No additional compensation was provided nor did I promise a positive review. All opinions are my own.