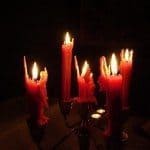 If there's something strange in your neighborhood. What'cha gonna install?
SOME ANDROID APPS!
It's that time of year, kids. All the spooks and goblins will the roaming the streets and decorating our homes and places of business. And "adults" will be able to attend ghost crawls where local celebrities guide you around the most haunted places in town. So what better time to pull out your cell phones and use some apps to get a jump on those spirits before they jump out at you!
I've compiled a list of Android paranormal apps on which you can use your skeletal little hands to find other spooky creatures that go bump in the night. Use them well… IF YOU DARE!
Find Local Haunted Houses
Not sure where to go to find those spirits or other haunts? Check out this list of maps and information that will take you to locations that have been reported to be home to your spooky neighbors. What are you going to do if YOUR house is listed?
>>Download the Find Local Haunted Houses app from the Play Store
Paranormal Field Guide
Before you head out, or even while you're wandering the halls of the abandoned insane asylum, this online guide will tell you what your sight, touch and other senses are detecting and why.
>>Download the Paranormal Field Guide from the Play Store
Ghost Radar : Classic
It doesn't get more "classic" than this. Turn on the app and watch the screen for blips that indicate "abnormal" readings. It will even tell you why the reading is abnormal.
>>Download Ghost Radar : Class from the Play Store
Ultimate EMF Detector
If you've ever watched a ghost hunting show you will know one of the most basic tools used by the "professional" is an EMF detector. Carry one with you on your phone with this cool app and help find that ghost that's hidden in the shadows.
>>Download the Ultimate EMF Detector from the Play Store
EVP Recorder with Detector
Nothing is creepier than when you hear that detached voice whispering something that was undetected by anyone in the room. Turn on your EVP recorder while out and about and listen to it later… in a dark room… alone.
>>Download the EVP Recorder with Detector from the Play Store
Well, good luck, ghost hunter. Gather up your cross, wooden stake, garlic cloves and your smartphone loaded with these great apps and have a SPOOKTACULAR Halloween!
Surely I've missed some of your favorite apps in this list. Send them to me @BeBizzy on Twitter and I'll add them to the post!
And just because I love the 80's, we're going to end with Michael Jackson's, "Thriller" video, because it's the internet, and we can.
Disclosure: As member of a pretty cool team of influencers, I received a mobile phone and with line of service from Verizon. No additional compensation was provided nor did I promise a positive review. All opinions are my own.